.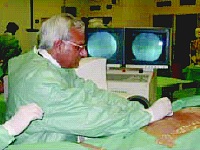 Minimal Invasive Spine therapy

Traditionally pathology of the anterior spine region has been treated conservatively, with extended surgery or not at all. Only in a minority of patients the underlying pathologic spinal defect could be treated. Most patients with pathology of the anterior spine are older patients with various systemic diseases.
Because the medical profession could not offer proper therapy in most patients, the pathology and therapy of the anterior spinal column has been neglected. Worldwide an inadequate management of acute and chronic patients with pathology of the anterior compartment of the spine is seen.
Since the live-expectancy of the population tends to increase, the diseases of geriatric patients, such as osteoporosis and spinal discus disease, will increase likewise. The pathologic disorders are expected to be twice as high in the year 2030. Specialized care of spine problems is essential if adequate and continued care is to provide comfort and functional improvement in daily live of patients.
In recent years development, research and application of minimal invasive interventions of this area have given physicians a lot of new opportunities to effectively treat anterior spinal pathology. Nowadays specialists in spine medicine can provide the necessary care. Spine medicine is gradually developing into a specialty.
Orthopedic surgeons, neurosurgeons, (intervention) radiologists, anesthesiologists and physiotherapists are all involved in dealing with diagnoses and (minimal invasive) therapy of anterior spinal disease. An interactive multidisciplinary approach with sharing of knowledge and discussions will improve anterior spinal column care management.
Next to the educational and scientific program, active hands on training workshops in small groups of nucleoplasty, vertebroplasty, kyphoplasty, clinical examination and diagnostic imaging of the spine will be held during the symposium.
It is a challenge to all of us to meet the organization's objectives. However, success of PROMIS will contribute significantly to the development of spine medicine as a specialty throughout the world.
.

A Comprehensive Cadaver Workshop Imaging & Anatomy

Interdisciplinary Medical Education and Research AZ Sint Lucas Ghent, UA Antwerp, AZ Sint Elisabeth Tilburg

Description Workshop
This 2-day symposium will include both lectures and workshops with hands -on work using cadavers. This workshop will allow the participants to experience a comprehensive and intense learning opportunity focusing on interventional pain management techniques.
The program is designed for all spine physicians. It is the most in-depth.
Comprehensive, and individualized program available in interventional anterior spine management with maximum hands-on training on cadavers in a state-of-the-art facility with maximum ability to interact with each other.
The number of participants for the workshops is limited to ensure excellent opportunities to interact with the teachers. The workshops are limited to 2x36 participants with 2x9 cadaver stations, of which 2x 6 cadaver stations. Participants can chose their area of participation according to availability on a first come first serve base.
C-arms and state-of-the-art equipment are utilized in this course. Participants are requested to dress in casual attire or scrubs. Lead aprons and thyroid shields will be provided. However, participants are advised to bring their own protective eyewear.
Purpose
The workshop is offered to improve multiple aspects of interventional anterior spine management. All the workshops are designed for participants to learn both basic and/or advanced interventional spine management techniques.
Accreditation Statement
This activity has been accreditated and implemented in accordance with Essential Areas and Policies.
Contents
Cadaver Workshop is designed for practitioners in any stage of technical and professional ability. It is designed to improve skill levels and knowledge of interventional techniques, focusing on spinal injection techniques.
Workshops - Subjects and procedures covered include:
Anatomy and imaging
Diagnostic imaging techniques (RX, CT, MR):
Imaging interpretation and case presentations
In groups of 5 people cases of anterior spine pathology will be presented and explained.

Dr. M. Lemmerling (Ghent, Belgium)
Dr. J. Van Goethem (Antwerp, Belgium)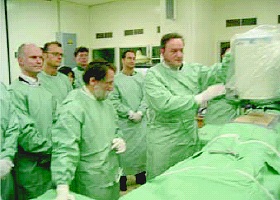 Workshops on interventional managment of DISCOGENIC painsyndromes
Goals of this workshop
DISCOGENIC PATHOLOGY :
* purpose of : dicography - manometry - evocation/provocation testing - 50/2 Hz intradiscal stimulation - diagnostic intradiscal anaesthetic block
THERAPEUTIC TECHNIQUES :
- uni/bilaterale posterolateral SMK annuloplasty ; with pRF rhizotomy of the adjacent nerfroots.
Associated with revulsiv infiltration and adhesiolytic transforaminal neuroplasty-techniques ; internal disc disruption
- navigable catheter techniques
DISCTRODE / SPINE-cath ; internal disc disruption
COBLATIE - nucleoplasty : contained herniation with discoradiculair conflict (difference with other techniques - chemonucleolysis???)
- importance of a pRF rhizotomy dorsal root ganglion level L2 ; eventually + transforaminal peridural block
and infiltrativ flushing on the level L2-L3; technique always bilateral ??? ; indications ??? ; multilevel degenerative discal disaese
- RF treatment of r communicans + sympathical chain : indication(s)?? ; very important denerative discal
disease
- combinations with other interventional techniques ??

Important accents
- diagnostic specific treatment in discogenic pathology
- correct use of the C-arm
- how can we come to a usefull algorith in the diagnostic and therapeutic follow up of chronicle discogenic painsyndromes
In the cadaver lab demonstrations of nucleoplasty, anuloplasty, and discography RFA will be performed. Explanation of the devices and manipulation of the instruments will be trained on the corpses.
P. Schuermans MD / Zundert MD/ M Puylaert MD / O. Rohof MD / G. Veeckmans MD / J. Kallewaard MD
Basic and Advanced vertebroplasty / kyphoplasty
Basic vertebroplasty/kyphopasty
The whole group will have a demonstration on the first cadaver of a normal vertebroplasty management. Participants will rotate through multiple stations, 4 (maximum 6) participants per each station. Each group will have 2x 45 minute interactive vertebroplasty workshops. Each group will also have short 15 minute interactive instructions on cement mixing, kyphoplasty balloon preparation and vendor specific interaction.
Advanced vertebroplasty: Kyphoplasty
A vertebroplasty with cervical approach will be demonstrated. The management of cementing with biodegradable cement will be shown with the explanation of the new devices. A Kyphoplasty with curette will be performed. Each group will have 2x 45 minutes interactive advanced vertebroplasty/kyphoplasty workshops. Each group will also have short 15 minutes interactive instructions on advanced cement mixing, kyphoplasty balloon preparation and vendor specific interaction.
Fransen / Lohle/ Lampmann/ Voormolen/ Depriester/ Chiras/ Ortiz / Zoarski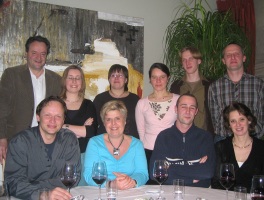 We also would like to thank the staff and workshop team of St. Lucas for their dedicated efforts to make the workshops a success.

Interactive Diagnostic Learning Center
Teachers: J.W Van Goethem, P.M. Parizel, L. van den Hauwe, D. De Wilde
Clinicians, who are confronted daily with patients suffering from low back pain, frequently request diagnostic imaging and receive medical images accompanied by the radiologist's report. It is however not always obvious what type of imaging will yield the most optimal response. Moreover, interpretation of the images requires much experience.
During the workshop: "Interactive Diagnostic Learning Center" 4 experienced radiologists will work with small groups to discuss images of spinal pathology.
After the workshop the participants will:
know how to formulate the request for diagnostic imaging

know what type of imaging technique is best suited to confirm or refute the clinical diagnosis

have a basic idea about image interpretation (plain radiography, CT and MR)
This workshop can accommodate a maximum of 20 participants, thus allowing optimal interaction with the teachers.